Our Mission
McKenzie Community Communications (MCC) is a brand new 501(c)(3) nonprofit organization, formed as a ground up initiative in February of 2021 by a team of McKenzie River community members to provide a resilient and reliable communications infrastructure to the McKenzie River Community. We are determined to build out infrastructure to support emergency community radio communications and long term, reliable, broadband internet service.
The lack of such services during and after the Holiday Farm Fire of 2020 exposed serious and ongoing communications vulnerabilities. Using General Mobile Radio Service (GMRS) repeaters, solar power backup and newly developed Microwave Broadband routes, MCC will be able to provide emergency communications and reliable Broadband service to the community even during extended power outages and future natural disasters.
MCC is currently providing two free public WiFi sites based on the emergency internet hotspots developed by the Oregon Internet Response (OIR) group following the Holiday Farm Fire. Hotspots are now operating in McKenzie Bridge and Rainbow. A third is under development for Blue River, in collaboration with the Cascade Relief Team, to serve much of the downtown area. At least two more hotspots are planned for Vida and Leaburg. Your support is needed!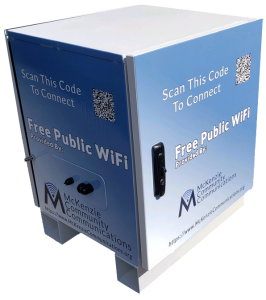 We need your support to expand our offerings of free Wi-Fi Hotspots in the McKenzie River Valley!

McKenzie Community Communications Emergency Communications Planning
McKenzie Community Communications (MCC) and our community partners are initiating a new, valley-wide emergency communications network using a Neighbor-to-Neighbor framework, organized into 3 zones along the river. We need your help!  Visit our GMRS page to learn more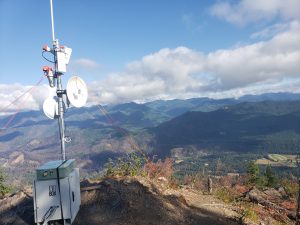 Thanks to a grant from Oregon Community Foundation, MCC has begun testing and will soon roll out a new, valley-wide GMRS radio network that will function even when all other communication options fail. The network will use 3 or more GMRS repeaters placed in strategic locations to provide reliable radio connections from the Hoodoo ski area to Cedar Flat – more than 50 miles. The GMRS repeater network will offer an additional layer of communications to the area and is not intended to replace systems operated by the Sherriff or County emergency responders. This system will allow the community to relay real-time status reports from on the ground.